Algae for Entrepreneurs

Get Your Copy Here.
$149 (Paperback +Digital Report)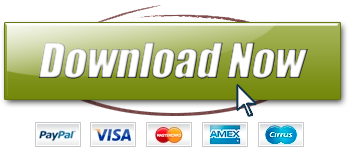 The "Algae Revolution" Has Begun.
In a world-wide climate of massive unemployment, "down-sizing," "right-sizing," and outsourcing, few opportunities exist today to create a lasting income that can serve your family for generations, help the global village, while at the same time, contribute to saving the environment. The Algae Revolution presents just such an opportunity.
Who are the foot soldiers in this revolution?
They are farmers, scientists, engineers, teachers, students, drivers, mailmen, entrepreneurs, soldiers, statesmen, and construction workers. They are in Asia, Latin America, Europe, Africa, Australia and the Pacific nations, and North America.
Forward thinking algae for entrepreneurs are already jumping on the bandwagon. Big money is flowing to algal research and development in some of the world's largest industries.
Big oil, the major airlines, big pharmaceutical, big agriculture, even the military is pumping money into this humble organism unparalleled in any time in human history.
With good reason…
Algae presents an opportunity like no other.
Bio fuels
Bio gasolines
Jet fuel
Disaster relief
Animal feed
Organic fertilizer
Food
Pharmaceuticals
Nutraceuticals
Cosmetics
Bio plastics
Waste treatment management
Bio technology
This book is written for entrepreneurs and small business owners, by an entrepreneur and small business owner. I've tried to answer the questions I would have, and have had, in my own algae production consulting business. It's not a "How-To" book like my other manuals. It is written for forward thinking individuals looking to cash in on the "Algae Revolution."
Other factors to consider:
No licensing required or needed.
Grow a valuable product.
No upper limit on income potential.
No boss
Ground floor opportunity to get in on one of the biggest bonanzas in modern history.
This eBook and supporting bonus material are a whooping 923 pages. It is the most complete treatment of the subject available anywhere, online or offline.
See a complete table of contents here.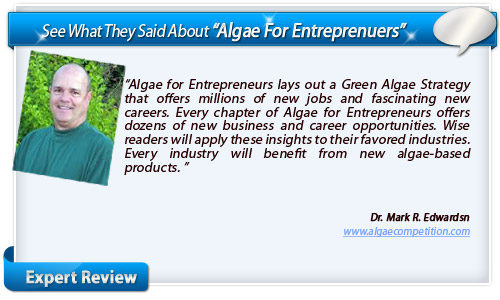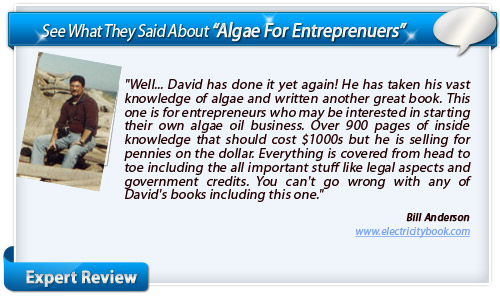 Table of Contents (short version)
Bio fuels Market Overview

Advantages of Using Algae as Bio fuels

Preferred Geographic Regions for Algae Production

Carbon Dioxide Co-Locating
Making Bio fuels Using Algae

Overview of Algae Harvesting Technologies

Approaches for Macro algae

Overview of Oil Extraction Technologies
Part Three…Producing Bio fuels

Anaerobic Digestion of Whole Algae

Bio Hydrogen Production from Algae

Using Algae for Ethanol Production

Biobutanol: The Bio fuel No One is Talking About

Challenges to Algae to Bio fuel Commercialization

Bio-fuel Grants and Tax Incentives

Companies in the USA Involved in Algae Fuel Production
In addition, you'll also get even more hard-hitting business intelligence
Making Bio-plastics

Use of Algae in Waste Water Treatment

Concept of Bio-fertilizers and Algae

Algae in Food & Health Industry

Algae and Health Foods

Pharmaceutical Uses of Algae

Nutraceuticals

Cosmetic Uses of Algae

Algae as Animal and Fish Feeds

Miscellaneous Uses of Algae

Designing Viable Algal Bio energy Co-production Concepts

Algae Concepts For Developing Countries

Marketing Challenges of Algae

Algae Business Strategies for the Future
Valuable Bonus Reports Included in eBook:
The Algae Industry Survey (29 pages)


By Dr. Mark Edwards, this one-of-a-kind industry survey lets you peek into the minds of the top movers and shakers in the algae industry and see their thoughts, methods, techniques, and much, much more. This is VERY hard to find information outside of expensive private reports. My personal thanks to Mr. Edwards for allowing me to include it.

Biogases Production and Utilization (16 pages)


Algae Bio gas is big business and its going to get even bigger. Able to power everything from cooking stoves to generators, to semi-trucks and vehicles, to small private farms, this easy to produce natural gas can do it all. This report goes in-depth into the European side of things. They have been using it, and perfecting it, for years. This insiders look reveals the tip and techniques necessary for starting your own off-the-grid energy system.

Roadmap for Bio energy and Bio based Products in the United States (56 pages)


This report addresses various

Feed stocks

Regional opportunities

Processing and conversion

Infrastructure

End use markets

This report is worth studying as many of its predictions have come to pass. It has proved to be an accurate predictor of future events.

Current State (2010) of the US Ethanol Industry (48 pages)


This report concisely lays out many of the challenges, and logistical ways of dealing with the issues facing the ethanol industry. Covered topics are

Size and structure of the US Ethanol Market

U.S. Ethanol in a global context

Ethanol Industry Economics

How Ethanol is Used

Environmental issues confronting ethanol

And much more

Production of Lipid Fuels and Chemicals by Micro algae (116 pages)


A detailed report by the Solar Energy Research Institute. This report goes into detail on all aspects of creating and producing algae based fuels and chemicals from 4 different algae strains and the various production challenges they faced, and most importantly, how they solved them. Critical cost centers and how to reduce those costs. It includes sections on methods, laboratory practices, open pond operations, using CO2, mixing, salinity, harvesting, oil/chemical extraction, and operating costs.

Advanced Bio fuels Development in the USA (38 pages)

A slide show report from the National Renewable Energy Laboratory in Bio energy Australia 2010 Conference in Sydney Australia which outlines the recent history of the NREL, as well as it's current projects. It's predictions for the future of bio fuels as well as steps taken by the NREL to insure its success.

A Look Back at the Aquatic Species Program (318 pages)


The book that started it all. This is a "must have" reference detailing the early methods and techniques of algae fuel production using open "raceway" ponds. Jimmy Carter commissioned this study in the early days of the Arab Oil Embargo. It was, at the time, years ahead of its time. I don't know of anyone, who is seriously interested in algae bio fuels who hasn't studied this book from cover to cover. Now yours…free.

Comprehensive Guide to Federal Bio Fuel Incentives (25 pages)


Making bio fuels is one thing, but wouldn't you like to have the government pay you to do it as well as profit from the product itself?

After all, Big Oil, and the Big ethanol producers certainly don't seem to mind it. This comprehensive manual gives you all the details, tips and tricks to cash in on grants, incentives, tax credits available to bio fuel producers and more.

The Design and Operation of an Algae Test Facility (68 pages)


Another excellent and detailed report by the Solar Energy Research Institute. All details of their test facility in Roswell, New Mexico are present here. How they built it, the materials, Earthworks, Mixing Systems Nutrient System, Dilution System, Carbonation system is detailed in this excellent report.




Buy the Paperback and get the Digital
Bonus Edition

FREE




Save $100 off Regular price!

$149.00



Get on Board, or Get Left Behind…


Unsolicited Comments

The other books are fantastic – Now I am looking to get finance to open up the Algae
Industry in the Southern Eastern Mediterranean . Thank you Dave
Costas Lambropoulos

Hi David,

I know I will get plenty of value out of this purchase. Your books are clearly illustrated and
easily understood. I fully intend on purchasing all upcoming publications and know that you must be putting in some killer hours to keep producing this amount of information. Thanks for keeping this going,

JOHN PIMPERL

Other Algae biofuel/biotechnology Books currently in production:



Algae for Entrepreneurs (Released)
Algae Ethanol (Released)
Algae Biodiesel for Small Producers (Due out Spring 2012)
Algae for waste Treatment (Due out Summer 2012)
Algae to Bio Gas (Due out fall 2012)
© 2010 Information Specialists, Corp., All Rights Reserved. Unauthorized duplication or publication of any materials from this site is expressly prohibited.

Disclaimer: All testimonials and comments are unpaid, and unsolicited. These comments reflect the viewpoints and/or experiences of a people named and you may, or may not have similar results.

Information Specialists, Corp. makes no claims as to the success, or failure of your project. Information is presented as educational and informational only. Please observe all laws in your local area.

You can view our refund policy here, disclaimer, privacy statement, as well as our Terms of Service